Availability
Add one of the following options to your cart or call us to reserve this suite today at 1-800-650-8199!
Reservation
Night
Total
Aug 11th ‐ 18th
Standard Rate
$395
$2,765
Saving
$146.51
Aug 11th ‐ 18th
Guest Rate
$248
$1,739*
Aug 11th ‐ 18th
Member Rate
$229
$1,603*
* Additional fees may apply.
Description
One Bedroom Villa Suites are 860 square feet of luxury and space for up to four adults, featuring: 
-Master bedroom with a King-size bed 
-Two bathrooms with Travertine marble accents and sunken tubs and showers 
-Comfortable Queen box spring Murphy Bed in the living room, coffee table, corner lamps, LCD TV 
-Kitchen with a blender, cookware, coffee maker, electric stove, microwave, refrigerator, service for four and a toaster 
-Dining area with table and seating for four 
-Furnished balcony 
-Air-conditioning and ceiling fans 
-Telephone, clock radio 
-Free Satellite TV
Floorplan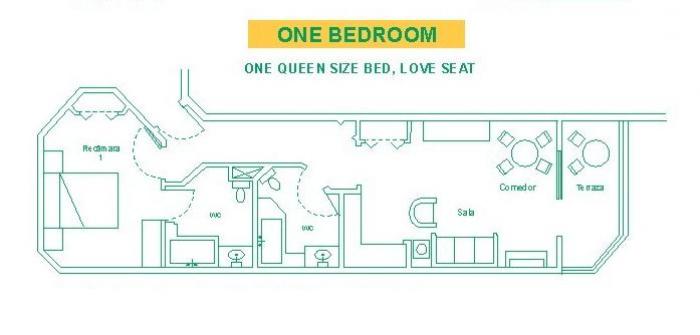 Testimonials
We liked Villa Del Palmar. It was a good place for the kids, clean and the beach was excellent. The unusual thing was literally everyone there was on an all-inclusive deal except for us. I personally don't like those all-inclusives though and would rather order specific higher end liquor/beer or wine and eat there OR in town when I want without regard to the all inclusive deal...so it worked fine for us! The rooms were nice/spacious and the people friendly! No complaints! It was an excellent vacation.
Rick F. - San Carlos, CA
We had a great Spring Break in Cabo!! Thanks for all of your information, it really helped! All 16 of us had a blast!
Jennifer - Hasting, MI
Cabo was fabulous!! Everyone was very pleased with the resort and had a great time. The next time we go back to Cabo I would like to stay at the Villa Del Arco. That was beautiful!! But, the Villa Del Palmar was perfect with all of the kids.
Patty - Hastings, MI
I just wanted to let you know that we really enjoyed our Mexican vacation and the resort was beautiful.
Michelle N.

SIGN UP AND SAVE
Get access to special rates and exclusive pricing available to members only

Immediate access to insider pricing

Access to members-only pricing, money saving tips and incredible last minute deals on suites and penthouses

Destination Cabo e-newsletter with monthly travel specials

Savings up to 80% off bookings
---