Please fill out the form below to book this suite for Monday, December 6 through Monday, December 13, 2021 or call us at 1-800-650-8199.
Help Us Find a Screaming Deal For You! Please complete the request form on the left to receive unpublished rates. We'll get back to you with availability and a secure booking link!
Description
Amenities
Air Conditioning
Climate Control
Flat-screen Televisions
2 Work Stations
Living Room
Foyer Area
Bar Area
2 Master Bedrooms each with King Size Beds
2 Regular Bedrooms each with King Size Beds
1 Living Area with a Sofa Bed
1 TV Area with a Sofa Bed
Dining Area
Washer / Dryer
Phone
Kitchen
Refrigerator
Coffee/Tea Maker
Nespresso Coffee Maker
Toaster
Safe-Deposit Box
Terrace with Jacuzzi and Patio Furniture
BBQ Grill
Daily Housekeeping
Electronic/Magnetic Keys
Features
Beds: 4 King Size Beds, 2 Pull-Out Sofa Beds
Occupancy: Maximum Occupancy of 10 people (in any combination of adults and kids)
Avg. Sq. Feet: 6,651
Interior Area Sq. Feet: 4,553
Terrace Area Sq. Feet = 2,098
Bathrooms: A total of 4 bathrooms (1 Master bathroom and 3 full bathrooms).
Sleeps: 12
Square feet: 6,651
---
Resort Amenities
"The Desert Spa" 30,000 Ft Destination Spa
Beachfront on Medano Beach
Business Center Hospitality Room
Concierge Service
Fitness Center
Free Tennis Courts
Kids Club Program
Medical Service
Restaurants on Property
Room Service
WiFi Internet (Resort Fee)
Interior Amenities
Cookware and kitchen utensils
Dishwasher
Granite tabletops
Maid Service
Microwave
This villa is a non-smoking unit
Washer/Dryer
Zoned central air-conditioning
Exterior Amenities
BBQ
Hot Tub
Private Balcony/Terrace
Photo Gallery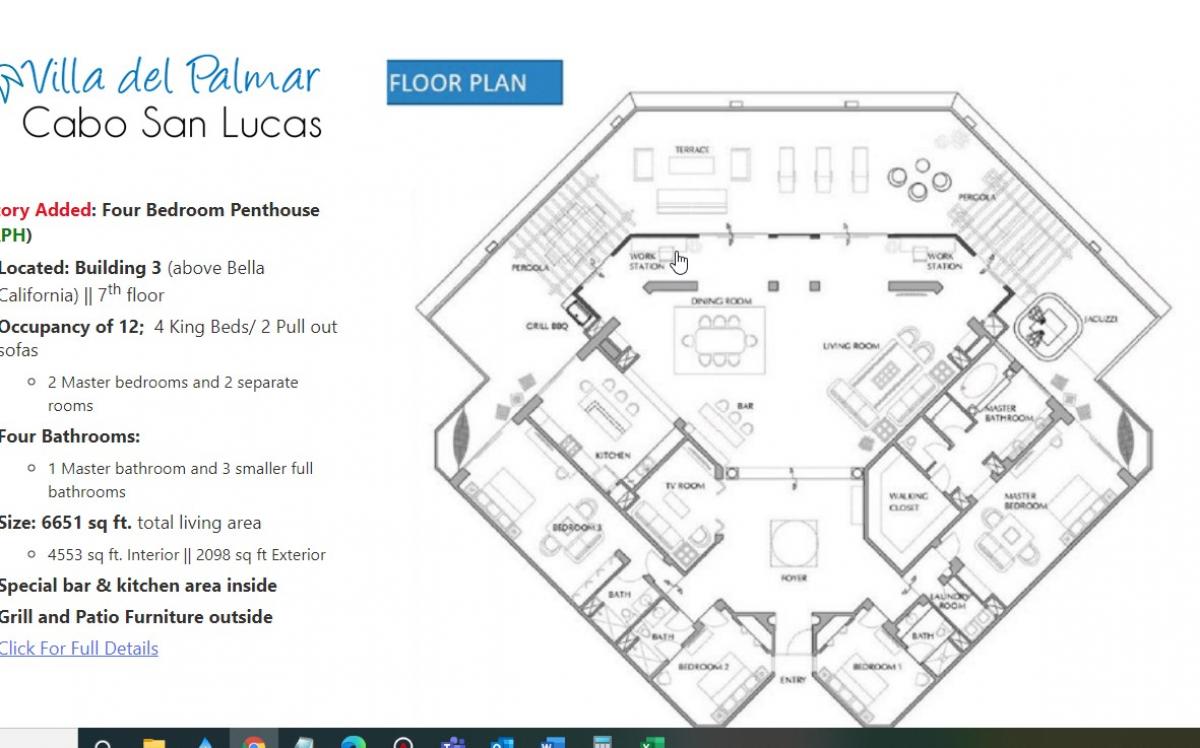 Floorplan
Testimonials
Hi Bob: We loved it and looking to stay again next year, during whale watching season. The villa we had was perfect for our needs and had a stunning view! We were at the "U" like you mentioned on our phone call. Staff at the villa were top notch too. Unfortunately, I was sick the entire week with the flu but what a great place to relax. The shuttle service was priceless and worth every penny. On time both ways and very accommodating. I will definitely be doing business with you again! I see why Jim H. referred you! :)
Sandra - California
As I have already relayed to you, my family and I absolutely loved your condo unit 1501 at Villa del Palmar. We had a wonderful time there. The resort was nice. We didn't participate in the All Inclusive Plan as we go into town for dinner each night, but we did enjoy breakfasts at the cafe and lunches on the beach. The only complaint I could have is the beach service is extremely slow and not very accurate with your orders, but it didn't bother us all that much. We are very interested in renting this unit again next year.
Milissa - Seattle
Just want to say thanks for a amazing vacation! The 3 bedroom penthouse was just perfect for our family. The tour you arranged for the boat was perfect. Our grand children got to see seals and whales. Can't wait to return! Thanks again.
Keith K. - Oklahoma
Our trip was fantastic. The property was everything that was promised, thank you. We enjoyed many of your restaurant suggestions, went snorkeling and sport fishing. My son caught a 150 pound marlin :) Staff at the resort are fabulous, very attentive and helpful. The weather was great and the waters calm. It rates among our best family holidays. I look forward to connecting with you in the future.
Todd F. - Kamloops, BC
We liked Villa Del Palmar. It was a good place for the kids, clean and the beach was excellent. The unusual thing was literally everyone there was on an all-inclusive deal except for us. I personally don't like those all-inclusives though and would rather order specific higher end liquor/beer or wine and eat there OR in town when I want without regard to the all inclusive deal...so it worked fine for us! The rooms were nice/spacious and the people friendly! No complaints! It was an excellent vacation.
Rick F. - San Carlos, CA

Enter Our Coupon Code and Get Access to Member Rates Today!
---
SIGN UP AND SAVE
Get access to special rates and exclusive pricing available to members only

Insider Pricing

Member Only Deals

Monthly Newsletter

Save nearly 80%!
---